History

A few people with a desire to have a place to enjoy fellowship and enjoy the sport of shooting skeet, rifle, trap, pistol and other activities founded the Arrowhead Gun Club in 1972. We have grown from a small one room, two skeet field club to a 10,000 square foot clubhouse, complete with a commercial kitchen and a fireplace unmatched by few.
We have 13 of the finest skeet fields anywhere, two trap fields, a 200-yard rifle range, and a 100-yard pistol range.There are camping hookups for approximately 40 campers. Our members constructed the activity areas and much of the clubhouse. Arrowhead Gun Club is dependent upon its members to volunteer so we can maintain and improve our beautiful facility.
Would you like to be notified of upcoming events at Arrowhead Gun Club? Email ahgunclub@gmail.com to be added to the list.
2020 Youth Day Postponed
At this moment a new date has not been set.







































Volunteers are needed to support the club. Members, if you are able to volunteer your time please contact us @ ahgunclub@gmail.com.
We are also looking for possible technicians who are able to provide maintenance on Winchester and/or Superstar machines. If you think you might be able to provide this service, please contact us at ahgunclub@gmail.com.














Construction Nears Completion
2nd Annual Reversed Raffle
The 2nd Annual Reverse Raffle was held June 27th! updates of the event will soon follow. Thanks to everyone who made this event a success.
Annual Firecracker Skeet Shoot
July 10-12
What a wonderful time!
Stay tuned for more information and more photos from this weekend's shoot!
WE ARE OPEN!
Several members have questioned whether the club is open for business. With the clarification from the Governor, the answer is absolutely. There are several guidelines however that we must adhere. First, your group should have no more than 10 people. Secondly, if there are several groups of people shooting, you must follow the proper social distancing guidelines. Finally, the clubhouse is only to be used to sign-in, pay for targets, sign-out, and restroom purposes. We hope that you take this opportunity to enjoy the spring weather and shoot a few rounds.
Since our last update, Jack and Stuart have continued the work on the wobble/5-stand construction. The structure is finished and the machines are throwing beautiful targets. At the moment, the porch area is filled with material because we are having putting tin around to mach the clubhouse. Hopefully, in just a few weeks all cosmetic additions will be completed.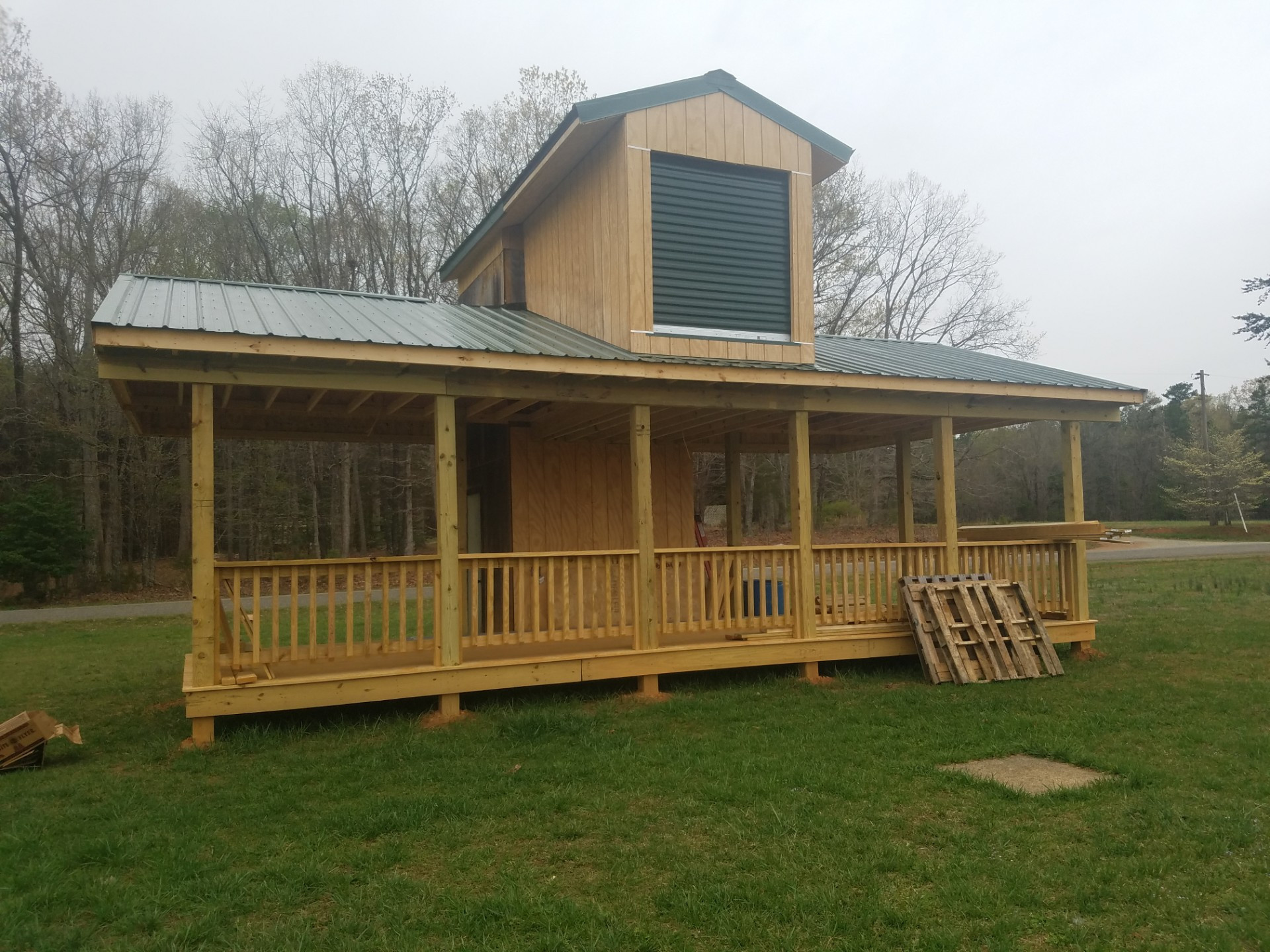 Arrowhead Clubhouse Gets a Facelift
The Arrowhead Clubhouse looks great! We are now placing tin on the new wobble trap house. We can't wait to see the finished product!